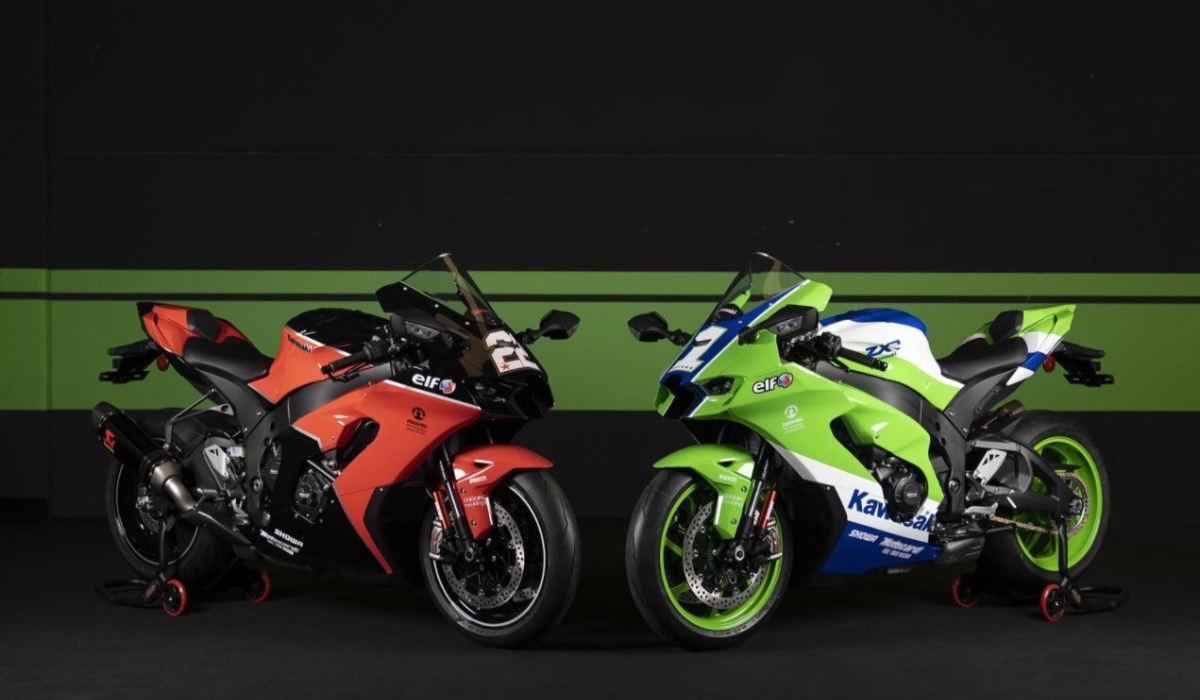 Following the worldwide response to the one-off KRT Superbike team heritage livery used at the Argentinian round of the World Superbike Championship in 2021, the Kawasaki Racing Team have created a unique experience combining a road going replica kit for the ZXR750-H2 and GPz900R styled machines along with matching leathers and a track experience with KRT riders which is being auctioned on eBay ending on March 3.
With overwhelmingly positive feedback for both the machines that Jonathan Rea and Alex Lowes rode, the team have used a pair of fresh from the crate Ninja ZX-10RR machines which have been dismantled at the KRT workshop in Granollers near Barcelona and rebuilt as faithful replicas of the racing machines with the added advantage that they will be fully road legal.
For Alex the choice in Argentina was the red and black livery of the 1980's GPz900R, the first machine in the world to be called a Ninja and two-wheeled star of a famous Hollywood film. Complete with an RST race suit made for the event, Lowes topped the look off by wearing "aviator" style sunglasses in the pit box before satisfying his "need for speed".
Jonathan fell in love with the re-imagining of the ZXR750-H style of 1990's as soon as he saw it; an era when the likes of Scott Russell, Robbie Phillis, Doug Chandler and Aaron Slight rode for the green team. Resplendent in his custom made Alpinestars leathers, the six-time WorldSBK Champion lined up on the grid and wound the clock back to a golden era of Superbike racing.
Only one of each style of machine has been created by the same mechanics that work on Rea and Lowes' racing Ninja machines and each with be accompanied by an exclusive "ownership package" that includes a Certificate of Exclusivity from KRT. Each lucky buyer will be able to spend a day on circuit with the team… and will even have 30 minutes of track time allocated alongside the KRT riders!
And to ride their newly purchased pride and joy the winner of the GPz900R replica will receive a set of custom-made RST leathers while the lucky owner of the ZXR750 style machine will be kitted out with unique Alpinestars racing leathers. Befitting such a special event, each owner will be presented with a photographic and video record of the day which they will surely never forget.
In terms of specification, each Ninja ZX-10RR will be a new unit supplied by an official Kawasaki dealer and will feature the following heritage kit courtesy of KRT sponsor partners: Akrapovic Kawasaki Heritage Limited Edition slip-on silencer, Valter Moto brake protector and rear paddock stand, Puig track-day windscreen and swing-arm bobbins, GB Racing engine covers and a Kawasaki genuine accessory fabric bike cover.

Commenting, KRT Team Manager, Guim Roda, said:

"This project was super successful in Argentina to celebrate Kawasaki's heritage and the introduction of the River Mark worldwide brand logo. We received amazing feedback from other teams and riders as well as Kawasaki fans globally. Our reaction was to create an exclusive limited edition experience with this pair of unique road machines and offer a package that amounts to a once in a lifetime ownership experience. Our KRT mechanics loved working on the bikes, and we look forward to meeting the successful bidders when they ride with Johnny and Alex."
Watch the video here https://youtu.be/BWG9QsM0x5g
Note: The ZXR750-H2 style machine reached its reserve price within minutes of the auction starting. The GPz900R machine remains available for bidding at the time of publication.