One of the most influential motorcycle designers of recent times has sadly died at his home in Japan at the age of 75. In December 2021, Shunji Tanaka passed away and leaves a considerable legacy in terms of his influence on motorcycle design while Design Director for Kawasaki based at their factory in Akashi, near Kobe, Japan.
As an integral part of Kawasaki's K-Tec design department, Tanaka-san played a significant part in the introduction of a fresh, new approach to the styling of Kawasaki motorcycles both in terms of the bodywork and overall appearance plus the adoption of so called "signature colours" which defined the machines during their launch phase.
Already a highly respected automotive designer before joining Kawasaki, Tanaka-san is credited with the design direction of the Mazda MX5, the world's top selling two seat convertible ever in terms of volume of sales with production now exceeding one million units. Moving from four to two wheels did not intimidate Tanaka-san; in fact, the remit to create bold designs for Kawasaki which embodied the uncompromising performance personality of the company resulted in a series of machines with instant impact and lasting appeal.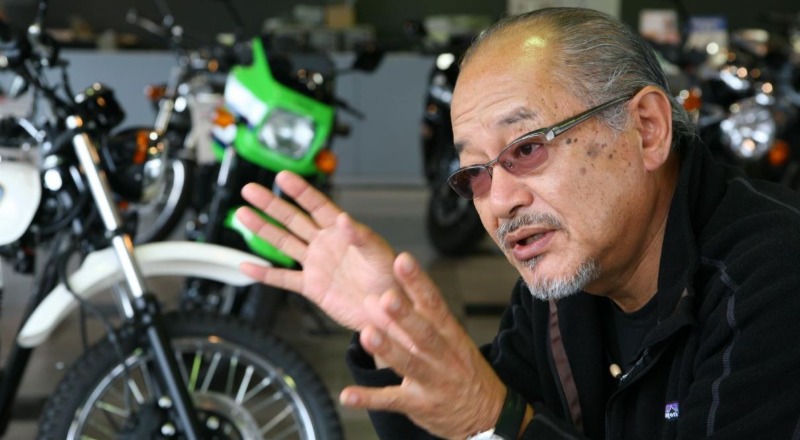 Marshalling his design team into a mutually supportive group – one of the keys to Tanaka-san's success – was the democratisation of the design process with even the most junior team member having a voice and being able to contribute to the final finished product.
Applauded for his influence on the styling and visual appeal of the machines launched during his time as K-Tec design director, Tanaka-san was proud to be involved in the successful introduction of the water-cooled in-line four-cylinder Z1000 in 2003 with its distinctive quad exhaust system and angular lines and for overseeing the look of the dramatic and impressive 2004 Ninja ZX-10R and subsequent 2005 Ninja ZX-6R.
Creating a recognisable "face" for the machines his team were responsible for was no coincidence as Takana-san firmly believed that the "personality" of a motorcycle was determined by the upper cowl and headlamp area with the rest of the design flowing from, and influenced by, this crucial part of the styling exercise.
It is hardly surprising that among many and varied enthusiasms in his private life, that Shunji Tanaka had a passion for the "Noh" masks used in traditional Japanese theatre productions; each mask establishing the credentials and often complex personality of the character in the play.
Mercurial, thoughtful, and highly creative, Tanaka-san was an eminently approachable man whose evident enthusiasm for design was infectious. As a "landmark" along the considerable design journey that Kawasaki has taken – and continues to this day – Shunji Tanaka will be remembered with considerable respect and affection.