Kawasaki unveil Ninja 40th Anniversary models for 2024 range
Over the last 40 years, Ninja motorcycles have captured the hearts of Sportsbike enthusiasts around the world. Never straying from what made Ninja famous from the start, the development of the iconic brand has always been at the forefront of technology, making Ninja not just a recognisable name but, for many riders, a way of life.
Now – for the 2024 model year – Kawasaki is releasing a "family group" of Ninja 40th Anniversary models as part of a celebration of four decades of performance and innovation. Set to be seen "in the flesh" for the first time at the prestigious EICMA show in Milan and now unveiled online, the trio of machines comprises the Ninja ZX-10R, base machine for multiple WorldSBK titles, the highly regarded mid-weight 636cc Supersport Ninja ZX-6R and the already highly praised and equally high revving Ninja ZX-4RR.
Each machine will be available in a version of the evocative early 1990's Kawasaki World Endurance livery of green, blue and white with the bold, unapologetic Kawasaki logo dominating the lower cowl; just like the three-time championship winning machines of the period. Adopted for the 1989 ZXR series of machines, the distinctive livery dials into the fashion for all things retro while also looking fresh and contemporary. Like the Ninja itself – it's a win/win combination.
Boasting a 40th Anniversary logo on their fuel tanks, each machine has had its livery carefully adjusted to suit the bodywork while the bold Kawasaki logo was taken from original drawings and even the displacement figures on the rear bodywork are evocative of the period. Adding lime green wheels and silver painted parts (including frame parts) illustrates the attention to detail lavished on these machines by stylists at the Kawasaki factory in Japan.
Available alongside the already announced colourways for the 2024 season, the 40th Anniversary models will play a significant role in a global digital celebration of a Sportsbike brand that is universally recognised and respected. 
The bikes will begin to arrive in dealers from January 2024. The Ninja ZX-4RR will cost £8,899, the Ninja ZX-6R £10,849, and the Ninja ZX-10R £17,749.
That's a wrap on BSB '23!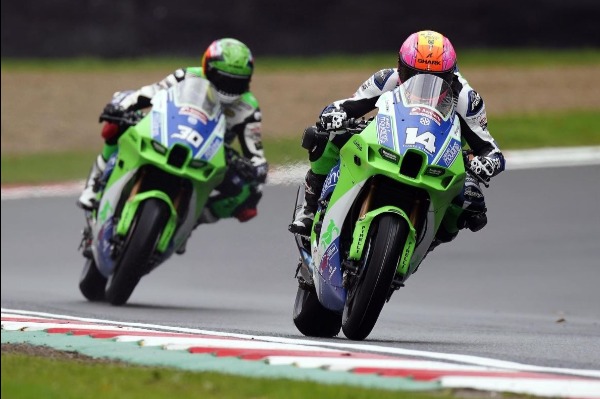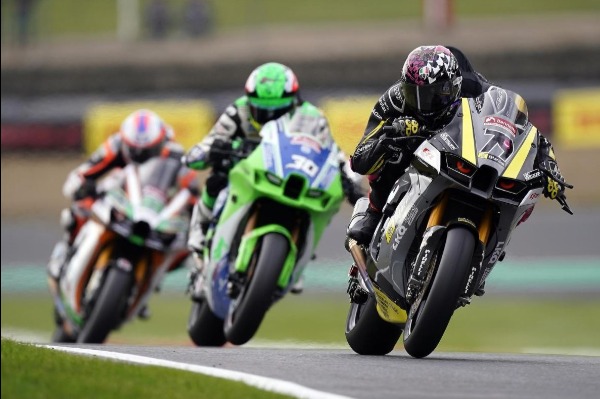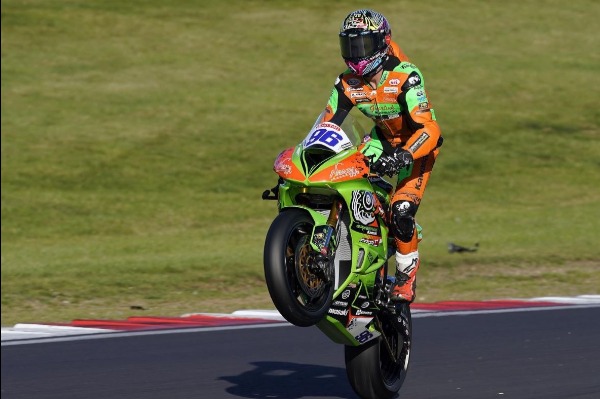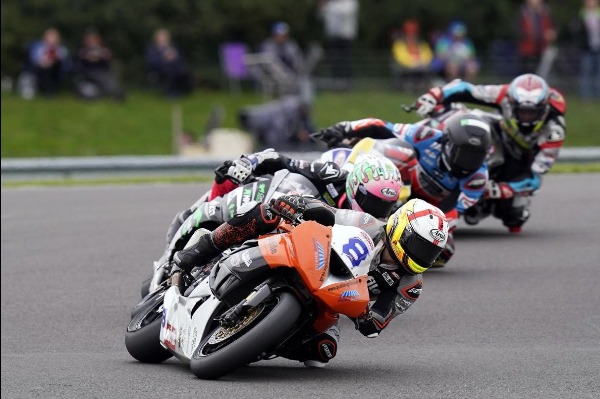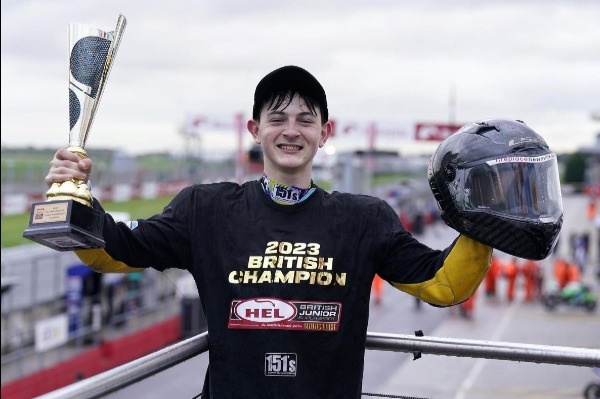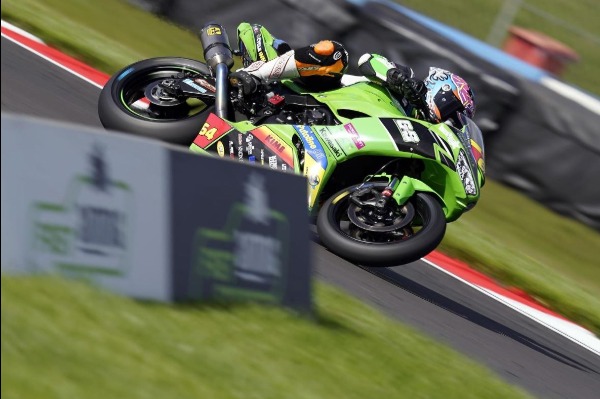 The 2023 Bennetts British Superbike Championship came to a close over the weekend, and it was a great year for our Team Green family! 
In the blue-riband class, the FS-3 Racing team had one of their strongest seasons to date, with Lee Jackson taking five podiums over the year to finish a hard-fought fourth place in the Championship standings. Despite it being his maiden season in the Superbike class, teammate Max Cook impressed everyone to finish 15th overall and secure the R&G Rising Stars award as the top rookie.
2023 also proved to be a breakthrough year for GR Motosport Superbike rider Storm Stacey, who had his best-ever season, which included his first front row start, highest points tally, and finishing top independent Kawasaki team. Rookie riders Bradley Perie, Jack Scott and Lous Valleley also enjoyed a strong end to the season as they continued to get to grips with the Ninja ZX-10RR.
In the British Supersport class, Gearlink Kawasaki rider Tom Booth-Amos had a brilliant season, taking more race wins than any other rider on his way to second overall in the series. Luke Stapleford also had a strong season, taking a pair of wins alongside a further eight podiums.
More Ninja ZX-6R success came in the National Junior Superstock Championship, where Cameron Dawson and Asher Durham finished second and third in the series, taking two wins and nine podiums between them.
The Ninja 400 was the machine of choice in the British Junior Supersport class, with the top 16 riders in the Championship opting for Kawasaki power. The title came down to the final round, but it was Finn Smart-Weeden who was eventually crowned Champion ahead of Lewis Jones and Lennon Docherty.
While the season might have only ended a few days ago, 2024 has already begun as FS-3 Racing's new signing, Jason O'Halloran, got his first laps of the ZX-10RR Superbike earlier this week. You will be able to meet Jason and Max Cook next month on the Kawasaki stand at Motorcycle Live.
Completely Motorbikes announced as new title sponsor of FS-3 Racing Kawasaki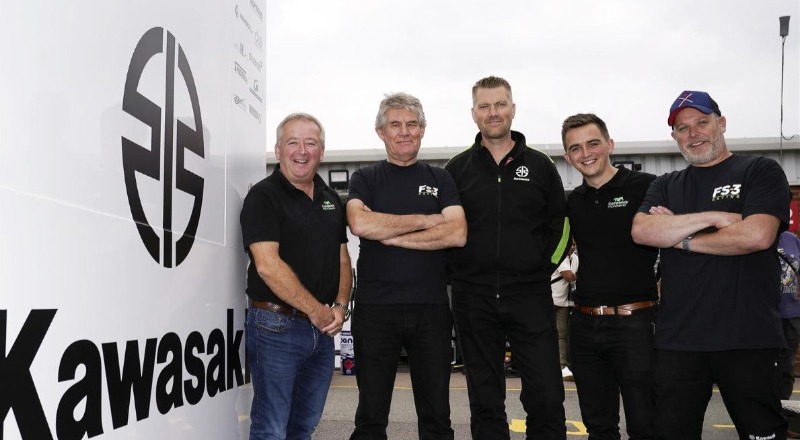 Popular Kawasaki UK dealer Completely Motorbikes has signed a deal to become the title sponsor of FS-3 Racing, the official Kawasaki Superbike team in the British Superbike Championship. The partnership kicks off this weekend at the final round of this year's championship with the Completely Motorbikes logo appearing on one of the team's superbikes on the Completely Motorbikes stand at Brands Hatch at an unveiling event on Thursday afternoon and then out on the track. The new logo will also be prominent in the team's pitlane garage over the weekend.
Fresh from announcing its 2024 line-up of Jason O'Halloran and Max Cook, the FS-3 Racing team is excited to confirm that Completely Motorbikes is joining the team as its title sponsor for the 2024 season and beyond. The motorcycle dealership has Kawasaki branches in Worcester, Gloucester and Yeovil and is no stranger to the Bennetts British Superbike paddock, already sponsoring teams throughout the series.
The new partnership was announced today on the Completely Motorbikes stand at Brands Hatch ahead of the final round of the 2023 BSB season, with the FS-3 Racing's superbikes carrying the Completely Motorbike logo on the side of the Ninja ZX-10RR's and in the team's pitlane garage.
Nigel Snook, FS-3 Racing Team Owner:
''We are delighted to welcome Rob and James Ayland to the team. The Completely Motorbikes logo is already a familiar sight in the British Superbikes paddock and on the track. Their ambitions are a perfect match with ours and we are excited that they have chosen to team up with FS-3 Racing and Kawasaki as they move up to support a front running two-rider superbike entry. Working with Rob and James will provide a wide range of opportunities for their customers to get closer to the action and for the team to be directly involved in helping promote bike sales across the country''.
Rob Ayland, Completely Motoring Group Managing Director:
"We have been proud to sponsor the Bennetts British Superbike series since 2020, moving onto 2024 when we also become official sponsors of the "Completely Motorbikes Kawasaki'' team. To hopefully see Jason and Max fighting for the championship in 2024 on the official FS-3 Racing Kawasaki is a culmination of four years of successful involvement with many riders, and at all levels of BSB. The "Team Green" headline sponsorship has all of the Completely Motorbikes group very excited and we cannot wait for 2024 season to commence!"
Ross Burridge, Head of Marketing & Racing Department at Kawasaki UK:
"It is fantastic that FS-3 Racing now has a completed line up with Jason O'Halloran and Max Cook and a new title partner confirmed for 2024 so they are all set to operate to the level required within the Bennetts British Superbikes Championship. We are incredibly pleased that Rob and his team at the Completely Motorbikes group have come on board to support our official team. It's a perfect match to be honest, and I sincerely hope that this new relationship is fruitful for all parties, both on and off track in 2024 and beyond."
Danny Buchan back with Team Green as he joins DAORacing!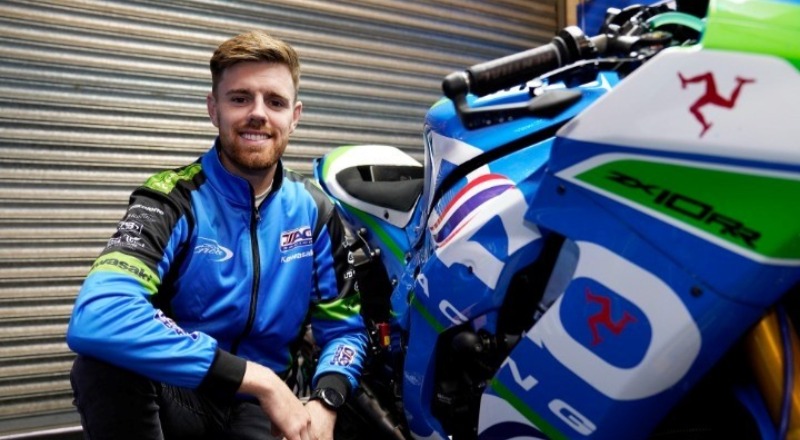 Six-time British Superbike race winner Danny Buchan is returning to theKawasaki family for 2024, having signed with DAO Racing to race their NinjaZX-10RR Superbike in the prestigious BSB series.
Danny has spent a lot of his career racing for Team Green, joining the BSB paddock in 2010, racing a Ninja ZX-6R in the National Superstock 600 class and securing a memorable Superstock 1000 title in 2014 aboard the road-going version of the Ninja ZX-10R, a feat he repeated in 2017.
Danny's best season in BSB came in 2019 when he finished fourth overall on the FS-3 Racing-prepared Kawasaki, and the Essex-based rider will be looking to replicate that form when he joins the DAO Racing squad next season.
The DAO Racing team are focusing fully on the Bennetts British Superbike Championship in 2024, with the experienced squad eager to claim their first rostrum and wins in the series.
Danny Buchan:
"First of all, I want to thank Clarissa, Sommai and Jonny for putting this together. It's no secret that 2023 has been a disaster, but DAO Racing can see potential in me, which is massive! The team has clear ambitions to become regular podium finishers and race winners, and that's always the goal of a racer.
I feel very proud to be part of this project and obviously excited to be jumping back on a bike I've got good memories with. The Kawasaki ZX-10RR is in good form currently in BSB, so with a winter's test plan and lots of laps, I'm hoping we can get right to it and have a good first season together. Thank you to my supporters, sponsors and everyone who has stayed so positive around me this season. Roll on 2024!"
Ross Burridge, Head of Marketing & Racing Department at Kawasaki UK:
"Danny has been part of the Team Green family for many years now, and it's great to have him back on board for next season! Although it's clearly been a tough 2023 for him, we know he has the talent to run at the front of the Superbike class, and now he has joined this extremely experienced team with a good crew around him, we're confident he will hit the ground running in 2024."
Kawasaki "Change the Game" with new strong hybrid Ninja 7 HEV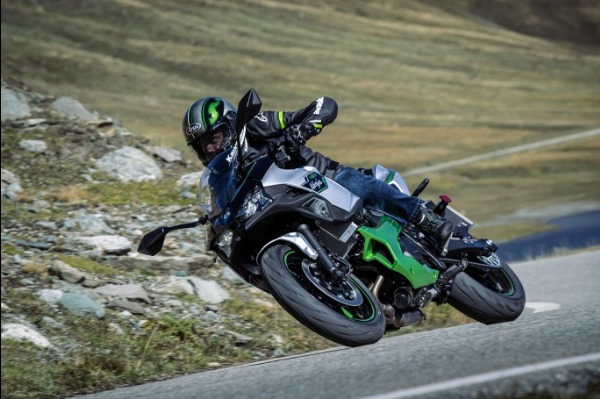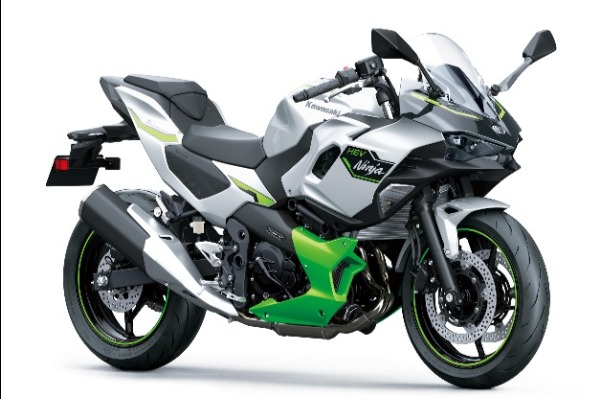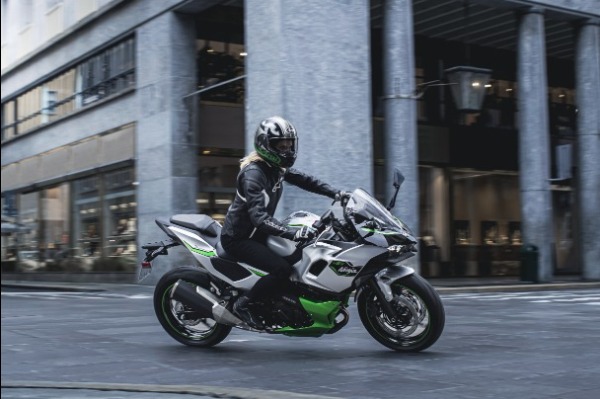 Having only recently held the debut of its new A1 licence class EV motorcycles in Paris, Kawasaki is taking another giant step down the road towards its long term goal of carbon neutrality with the introduction of the world's first* mass produced Strong Hybrid*, the Ninja 7 Hybrid.
Seeking to "Change the Game", the all new Ninja 7 Hybrid offers a unique window into a world of future motorcycles but in a contemporary time frame with the first models expected to be on showroom floors in January 2024. 
At the heart of the Ninja 7 Hybrid is the innovative combination of a brand new 451cc parallel twin, water-cooled four stroke engine – complete with manual or automatically selected gears – and a traction motor plus battery; a futuristic combination that offers a number of new riding experiences plus an engine power of 43.5 kw rising to an impressive hybrid net power of 51.1kw thanks to "e-boost". 
In terms of dimensions, the Ninja 7 Hybrid is a mid-size package offering 650cc to 700cc class overall performance with the instant acceleration to rival that of a 1,000cc-class supersport model from a standing start (with Kawasaki's e-boost function already seen on their EV machines), fuel economy on par with the 250cc-class and button-shift sport riding. In addition, riders can switch between three riding modes (SPORT-HYBRID, ECO-HYBRID, EV**) that each offer a distinct riding character as they accommodate a wide range of riding situations. 
Other innovations include idling stop whereby the internal combustion engine stops at a halt to save fuel and reduce emissions plus Automatic Launch Position Finder (ALPF) which – when selected – automatically selects first gear at standstill plus a forward and reverse "walk mode" to aid low speed manoeuvring and parking. 
Utilising a specially designed version of Kawasaki's familiar trellis type chassis, the "packaging" of the gasoline engine and 9kw max traction motor reveals a compact twinned power unit with the 48V lithium ion battery near the centre point of the chassis to idealise weight distribution. And in terms of styling, the Ninja 7 Hybrid is resplendent in a unique HEV treatment combining a matt lime green under cowl with silver and black bodywork destined – like its engineering innovations – to set this bike apart from the common herd. 
Ergonomically, the relaxed and sporty riding position eases the rider towards the high-grade cockpit and carefully considered layout of the switchgear; both designed to be intuitive and to inspire confidence.  For the meters, full-colour TFT instrumentation includes smartphone connectivity via a custom version of the RIDEOLOGY THE APP MOTORCYCLE contributing to an enhanced motorcycling experience.  
As the first of its kind, the Ninja 7 Hybrid sets the bar for HEV motorcycling.  Offering the best elements of ICE and EV models, and able to navigate both the urban jungle and countryside backroads, this revolutionary new model is greater than the sum of its parts.  With its exciting character and numerous innovative features for riders to explore, the Ninja 7 Hybrid truly ushers in a new era in riding experiences. 
The Ninja 7 Hybrid will be available in the UK from April 2024, with prices to be confirmed nearer the time. 
* Mass production models (excluding scooters) from a major power sports manufacturer as of October 6, 2023, per Kawasaki Motors, Ltd. research.    
Strong hybrid systems combine an internal combustion engine (ICE) with an electric motor for powerful riding, and because of their large battery capacity they are able to run on electricity alone. 
** The Ninja 7 Hybrid's EV Mode may be helpful for certain situations where quiet riding is appropriate, such as in residential areas or in parking garages. Speed and range are limited.
Pass Your Motorcycle Test with KRTS and Receive a Free Ticket to Motorcycle Live 2023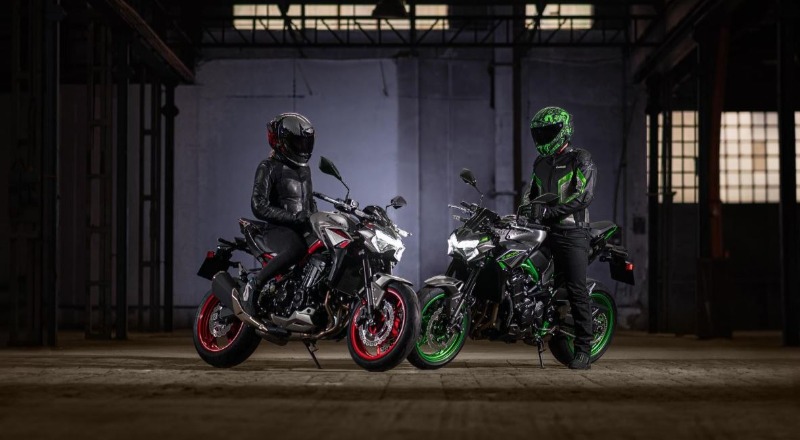 Join the Kawasaki family! Pass your test with Kawasaki Rider Training Services before 10th November and you'll receive a free one-day ticket to Motorcycle Live as a welcome to the world of motorcycling!
Kawasaki works with authorised training service providers throughout the UK to offer professional rider training. Located in areas to complement the Kawasaki dealer network, current riders and those new to two-wheels are encouraged to learn and improve their skills to get the most of their experience on a Kawasaki machine. 
KRTS is a national training service provided by leading manufacturer Kawasaki. We aim to ensure safe, comprehensive and fun motorcycle training at the highest level. We launched KRTS to help protect the future of our industry.
We partner with the best trainer in the area.
High standards of training & service.
Free advice & guidance from the KRTS Contact Centre.
Insurance premium discounts offered by major UK Insurance Underwriters.
Train on well-maintained quality Kawasaki machines.
Equipped with clean and proper fitting protective clothing.
All instructors are DVSA Qualified.
Learn with experienced and enthusiastic instructors
This fantastic offer applies to all practical motorcycle tests, including CBT, module 1 & module 2. With over 60 KRTS centres across the UK, we're confident you will find a school to suit you.
Anyone who passes a practical motorcycle test including CBT, module 1 & module 2 (theory test is not included) through an approved KRTS school between 20th September 2023 and 10th November 2023 is eligible to receive a redemption code for a free one-day ticket to the 2023 Motorcycle Live Show at the NEC, Birmingham 18-26 November 2023. All test passers must email krts@kawasaki.co.uk to request their unique redemption code which can be used to claim a free one-day show ticket which can be used on any show day of your choice. A maximum of one Motorcycle Live Show 2023 entry ticket is available to each person who completes their test, regardless of how many tests are completed during the offer period. For any questions, or to request your code, please email krts@kawasaki.co.uk. For further detail on Motorcycle Live visit www.motorcyclelive.co.uk'
Kawasaki set for biggest ever Motorcycle Live!
The countdown to this year's Motorcycle Live Show is on, with the annual two-wheel extravaganza returning to the NEC, Birmingham from the 18th – 26th November. Kawasaki is excited to confirm it will be returning once again with what is set to be our most exciting year yet!
Returning with our unique double-storey stand we debuted at the 2022 show, visitors will be able to see the complete range of 2024 motorcycles. This includes the new Ninja ZX-4RR, ZX-6R, and Eliminator alongside popular models such as the entry-level Ninja and Z 125, the retro-inspired Z650RS and Z900RS, and the Versys 1000 range. The exciting Z e-1 and Ninja e-1 electric machines will also be on display, with more new announcements ahead of the Show.
Race fans are going to be well-catered for once again, with racing announcements and interviews being conducted throughout the nine-day event while the FS-3 Racing British Superbike duo of Jason O'Halloran and Max Cook will be revealing their 2024 livery live on the stand. Fresh from announcing the exciting new Kawasaki British Superteen Championship, we have teamed up with Moto Trainer Simulator to create the "Kawasaki Superteen Challenge". Using four Kawasaki Ninja ZX-4RRs, the simulator will let visitors go head-to-head, with daily prizes on offer for our winners!
If all that wasn't enough, we'll also welcome our wide range of experience partners, including the California Superbike School and Kawasaki MX Experience, to the stand, showcasing their machines and chatting with guests. Official Kawasaki clothing and merchandise will be available from our shop, perfect for those looking for a special Christmas present for the bikers in their life.
Eager to showcase the benefits of two wheels to as many people as possible, we are excited to launch a unique new promotion to those looking to start their riding journey with Kawasaki. Anyone who passes their CBT or any other practical motorcycle test with 
Kawasaki Rider Training Services
 between September 20th and November 10th will be able to receive a free one-day ticket to Motorcycle Live!* We will also have our Z125 ready for test rides in the Show's popular TryRIDE zone. Every day during the show – MCIA TryRIDE will offer free motorcycle lessons to anyone aged 14 or over with a professional instructor, provide protective clothing too – and it's free!
Once again, we are looking forward to welcoming our Club Kawasaki members to our stand. All members and their guests are invited to join us in our hospitality suite to escape the hustle and bustle of the Show and enjoy our free refreshments. We will also be hosting our exclusive preview event again, which gives Club Members early access to the Show, where they can enjoy a hot breakfast roll and drink before being given an overview of the latest machines on the stand. You can find out more information and book your spot 
here
. All Club Members will also be able to enjoy a 10% discount in our Show shop.
*Terms & Conditions: Anyone who passes a practical motorcycle test including CBT, module 1 & module 2 (theory test is not included) through an approved KRTS school between 20th September 2023 and 10th November 2023 is eligible to receive a redemption code for a free one-day ticket to the 2023 Motorcycle Live Show at the NEC, Birmingham 18-26 November 2023. All test passers must email krts@kawasaki.co.uk to request their unique redemption code which can be used to claim a free one-day show ticket which can be used on any show day of your choice. A maximum of one Motorcycle Live Show 2023 entry ticket is available to each person who completes their test, regardless of how many tests are completed during the offer period. For any questions, or to request your code, please email krts@kawasaki.co.uk. For further detail on Motorcycle Live visit 
www.motorcyclelive.co.uk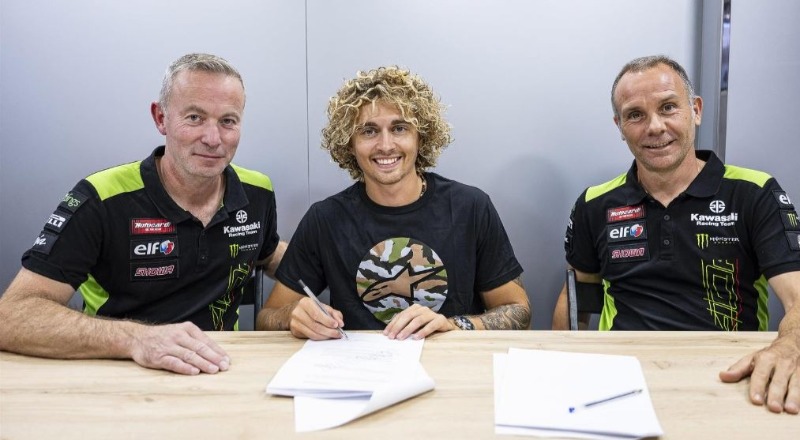 Axel Bassani has been confirmed as a Kawasaki Racing Team rider for the 2024 season and beyond. He will join established KRT rider Alex Lowes to complete the team's line up for next season on the official Ninja ZX-10RR.
Bassani (24) is one of the most exciting talents to rise from inside the WorldSBK paddock in recent years. He has amassed six podium finishes since he made the jump to WorldSBK racing in 2021, finishing ninth overall that year and scoring his first podium at KRT's home round of Barcelona – Catalunya, on his MotoCorsa Ducati.
The ambitious and increasingly skilled Bassani would score three podiums the next season as he finished seventh overall. He was the top competitor in the Independent Riders' standings in 2022, beating his closest opposition by over 100 points.
At time of writing he is fifth in the overall WorldSBK standings in 2023, and easily the best Independent Rider with two rounds to go.
His relative youth and obvious talent has made him an attractive proposition for many teams and with Jonathan Rea leaving the KRT set-up for 2024, Bassani was seen as the best prospect to be teamed up with Alex Lowes for a full campaign next year.
Bassani has scored six WorldSBK podiums already and is looking forward to having his first ride on the official KRT Ninja ZX-10RR machine once his contract with his current team expires. 
Axel Bassani, stated: "I'm really happy for the important opportunity that Kawasaki is offering me. I will give the best of myself on and off the track to achieve the best possible results, hoping to give all the Kawasaki fans great emotions and satisfaction! I want to thank my family for the sacrifices made and Lorenzo Mauri for the path we have taken together which has allowed me to stand out in recent years. See you soon on the track."
Guim Roda, Team Manager of KRT, stated: "Our 2024 strategy was set months ago, but Rea's move made us rethink the organisational logic at KRT. We spoke internally with KMC and the decision was to take a younger rider with the potential to win races and who knew how to take advantage of all the KRT experience. His image is fresh, sincere, fun and has a lot of potential to represent Kawasaki's image in the world. Alex Lowes will now need to apply all of his experience, while Axel will have a bit of time to learn. We are very happy with the structure we have proposed for 2024 and we are very motivated to enjoy racing and take advantage of the best aspects of the Ninja ZX-10RR. I hope the fans enjoy next season with this latest project we are working on."
Steve Guttridge, Kawasaki Motors Europe, Race Planning Manager, stated: "While we continue to compete for wins and podiums in the remaining races of the 2023 season with Jonathan and Alex, already the Kawasaki Racing Team is long-term planning for next season. It is almost impossible to express the impact that Jonathan has had within the Kawasaki racing family and as he leaves us at the end of the season there is a golden opportunity for a rider new to our racing project to make an impression. We are delighted to have signed Axel and our feeling is that his impressive track record so far is only a small indication of his future potential. We look forward to realizing that potential and seeing him blossom on the KRT Ninja ZX-10RR."
Shigemi Tanaka, General Manager of Marketing and Sales Division, Kawasaki Motors Ltd., Japan, concluded: "Our WorldSBK racing project has achieved multiple manufacturer and rider World Championships in recent years; first with Tom Sykes and then thanks to Jonathan Rea. The news that Jonathan will move elsewhere in 2024 signifies the end of one incredible chapter and the beginning of another in Kawasaki's illustrious racing history. The global Kawasaki family welcomes the news that Axel Bassani joins the KRT racing project for the coming season and we are confident that, in partnership with Alex Lowes, we will once again field two exciting and success hungry riders on our iconic Ninja machinery in the 2024 WorldSBK Championship."
Kawasaki Ninja and Z EV models Spark a New Era
From Kawasaki – a company with seventy years of motorcycle experience – a new era is about to dawn with the unveiling of two ground breaking battery powered, zero emission EV machines set to underline its "Go with Green Power" commitment unveiled at the 2022 EICMA motorcycle show.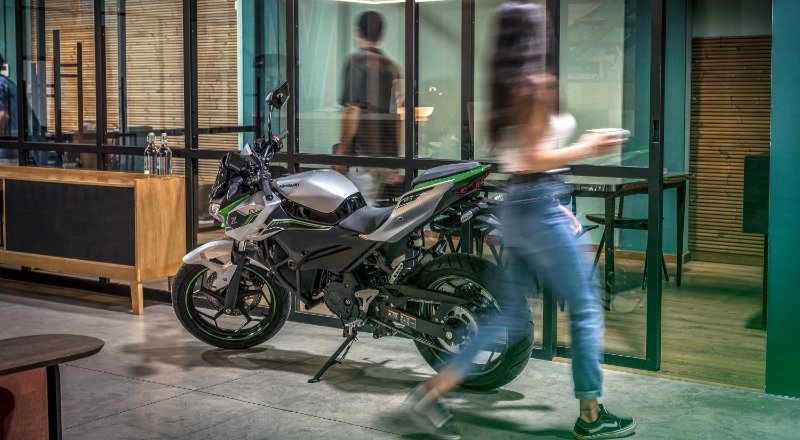 Created to sit proudly within the 125cc class of current motorcycles, the new Kawasaki EV machines will be available in Ninja and Z family styles as Z e-1 and Ninja e-1 with both able to boast mid-capacity type chassis and running gear specifications delivering typical Kawasaki fun to ride characteristics mated to zero emission desirability.
With a near silent and efficient brushless motor rated at 5kw (with a useful maxim of 9Kw on demand) this duo of EV models rely on an innovative twin (removable) battery solution with the batteries wired in parallel unlike competitors delivering the advantage of more efficient charge usage. Enjoying a variety of charging options this twin battery configuration allows the sort of portability that heavy single item applications simply prohibit.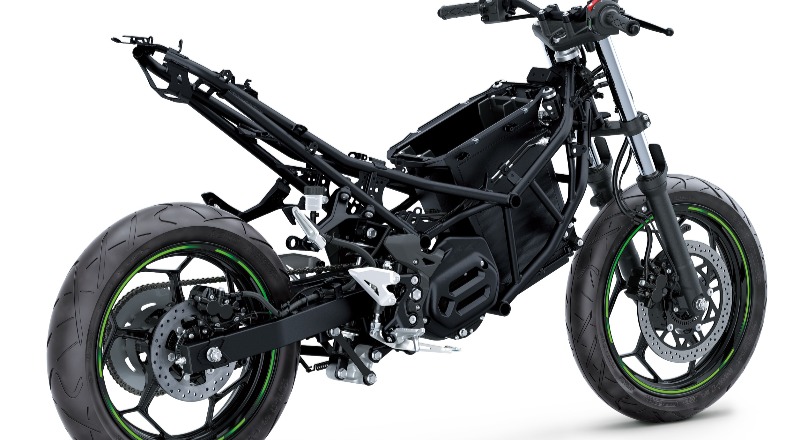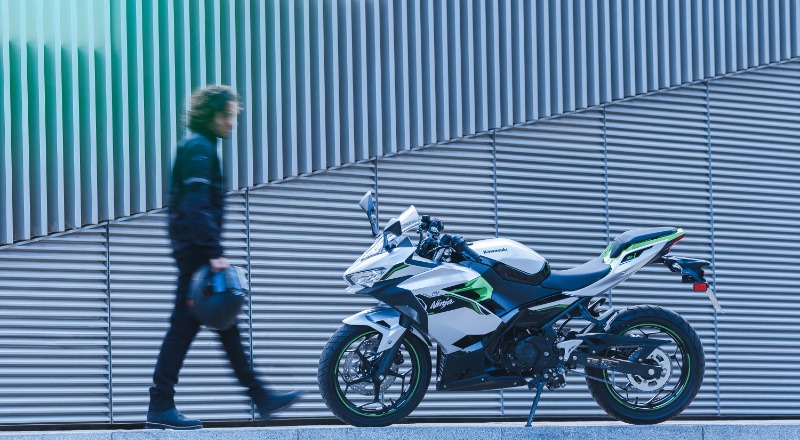 Clutchless, with no gears to change and with a simple "twist and go" riding style, the fun to ride feeling is augmented by some clever rider-centric features such as two riding modes (Road and Eco) plus an exciting "e-boost" option delivering an on-demand max of 9kw of power and acceleration (plus a potential top speed of 99kph where permitted) over a short distance thanks to a e-boost button on the right bar under the twist grip.
Kawasaki Z e-1 and Ninja e-1 riders can also amaze their friends with a walk mode that allows these machines to manoeuvre at walking pace in both forward AND reverse – particularly useful for tight parking spots or moving backwards up an incline. 
Enjoying a unique Metallic Bright Silver and Metallic Matte Lime Green appearance – which is to be the signature livery of future Kawasaki EV models – the rider view is pleasingly dominated by a TFT meter with smartphone connectivity. Relaying such things as machine riding status, range, availability of boost function and riding level selected (Road or Eco), the TFT meter seamlessly combines with the easy-to-use throttle and 400cc motorcycle class ABS brakes and trellis type chassis to create genuine on road presence and the riding reassurance that has so far been missing in the entry level EV powered two-wheeler class. 
Charging options include a charge docking station which a battery can be placed in or via a lead which can link the off-board charger unit to the machine via an under-seat socket with batteries still in place. Cool features about the advanced Li-Ion batteries include inbuilt charge indicators plus a symmetrical design allowing easier placement within the machine plus a handy lockable stowage area above the batteries below the battery cover.   
With a range of accessories including +30mm Ergo-Fit seats and various charging solutions, the naked Sugomi style Z e-1 and sleek fully cowled Ninja e-1 models from Kawasaki are set to create another chapter in the company's illustrious history and open the door to a greener future for two-wheel fans globally – truly a spark of innovation for a new era.   
Both machines will arrive in the UK next month, with prices to be confirmed soon.
Celebrating 70 Years of Kawasaki motorcycles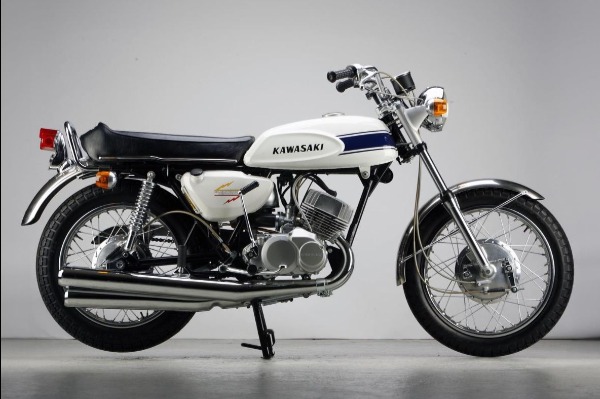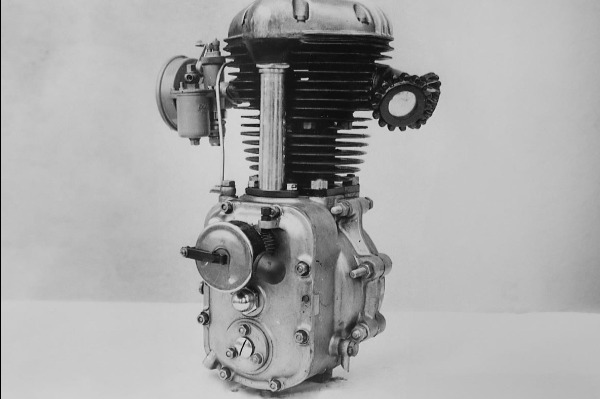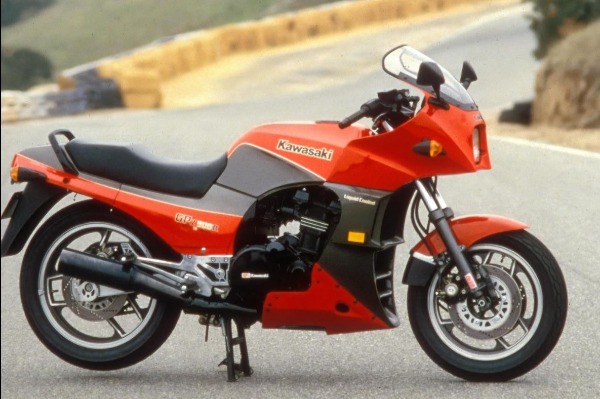 In September of 2023, Kawasaki Motors celebrates its 70th anniversary of making motorcycles having first made forays into the motorcycle business in 1953.
After the end of World War II, Kawasaki produced motorcycle engines under the name of "Kawasaki Machine Works." Since then, Kawasaki has continued to Let the Good Times Roll and has strived to share its "Fun to Ride" philosophy with customers around the world. Today, Kawasaki motorcycles are sold in more than 90 countries and regions. 
To commemorate Kawasaki Motorcycles' 70-year anniversary, AKM (American Kawasaki Motors) will mount a special exhibition to be held at the AKM Heritage Hall in Foothill Ranch, California as well as Kawasaki Good Times World in Kobe, Japan starting in September 2023. The displays will focus on the history of the motorcycle business in the U.S. market, which marked a major turning point in Kawasaki's overseas trading strategy.
Kawasaki's path to success in the motorcycle industry, which began with the launch of the KE-1 motorcycle engine in 1953, was not a smooth one. Several efforts were made to try to expand sales, including working with trading companies to expand to overseas markets, in addition to a business alliance and subsequent merger with the Meguro Manufacturing Company. However, each of these efforts failed to produce the sales results that the Kawasaki factory in Japan had hoped for.
It was decided that selling directly to dealers would be the better business model, so in 1966 American Kawasaki Motors (USA) was established. Kawasaki's US operations began with only 10 employees and adopted an innovative policy of "localism" before going on to develop motorcycles like the Kawasaki A1 Samurai 250, Kawasaki H1 500 Mach III and iconic Kawasaki Z1 900 for the U.S. market. Early on, Kawasaki USA launched a new kind of sales policy aimed at expansion that included the industry's first model year system and worked to strengthen relationships with dealers by setting up branches in every region of the U.S., thereby consolidating its base in the U.S. market.
In 1974, Kawasaki made a $20 million investment to build a manufacturing plant in Lincoln, Nebraska to be in-line with a coming shift to a floating exchange rate in the U.S. In fact, Kawasaki's Lincoln plant became the first plant built by any Japanese car or motorcycle manufacturer in the U.S. It remains Kawasaki's main plant outside of Japan to this day. It is where all Kawasaki Jet Ski personal watercraft and side by are still manufactured today.
Kawasaki started full-scale production of motorcycles over a half century ago. The first Kawasaki motorcycle engine was designed based on technical know-how garnered from the development and production of aircraft engines, and Kawasaki's entry into the motorcycle industry was driven by the company's constant effort to develop new technologies. 
Numerous new Kawasaki models introduced over the years have helped shape the market, and in the process have created enduring legends based on their unique engineering, power, design and riding pleasure. In the future, Kawasaki Motors, Ltd. is committed to maintaining and furthering these strengths using both internal combustions engines and green technologies such as EV and HEV which will surely give birth to new legends.